Nestled in a rugged and remote desert location only 55 minutes Northwest of the Phoenix/Scottsdale metro area lies an historical icon, Castle Hot Springs.
Boasting a colorful 124-year history, this one-of-a-kind desert retreat has hosted celebrities and dignitaries from around the world. The guest registry includes magnets of industry like the Rockefeller and the Pew families plus the Vanderbilts and the Astors. President Theodore Roosevelt stayed at the resort during the dedication of the Roosevelt dam. And, in the 1940s the resort was used as a military rehabilitation center to treat veterans wounded during World War II. One famous soldier who rested at Castle Hot Springs was future president John F Kennedy.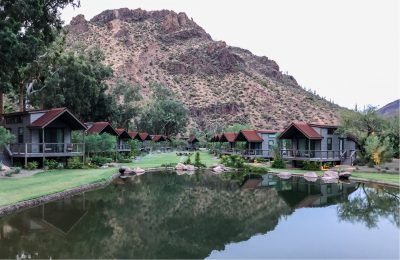 Recently we had the pleasure of staying at this exceptional property. The history it holds is truly remarkable. Sitting untouched for nearly 40 years this natural gem in the Bradshaw Mountains continued to produce its restorative thermal waters as it waited for its inevitable return. It is hard to imagine that this Arizona treasure nearly disappeared into obscurity until it was purchased in 2014 by a local Arizona couple. It was renovated, restored and emerged like the mystical phoenix rising from the ashes in 2019.
The natural hot springs at the heart of the property emanate water of 115°, which cascade into three hot springs pools, and its warm waters are also used to heat the main resort pool. Additionally, water is piped to each room to fill private soak tubs and is used on the farm.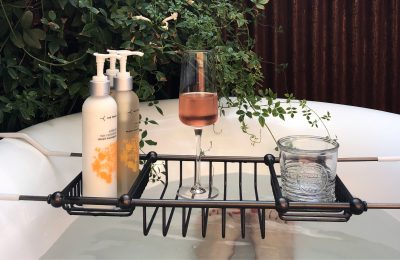 Between the upscale private accommodations, the outdoor bathtub, Nespresso maker, the mouthwatering farm-to-table food, the fresh gardens, the top-notch service, and the massages…oh, and those ever so relaxing thermal waters…it was a pure joy to escape to this newly discovered Arizona oasis.