For something so integral to our homes, lighting is often not talked about in the same way decor or other foundational elements of a room are, and in some cases, it's altogether neglected. The fixtures a house comes with might suffice, but it's hard to argue that a sleek pendant or an on-theme chandelier can't beat the infamous flush-mounted ceiling lights or basic recessed lights found in most homes. In 2022, lighting trends are looking more brilliant than ever and there is something for everyone and every room, from flashy, in-your-face chandeliers to subtle lamps and bulbs that gently envelop a room in light. Here's how experts are visualizing these trends and key takeaways for actually incorporating them into your own space.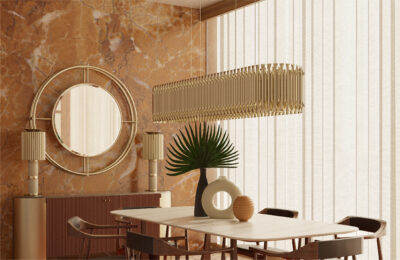 OVERSIZED AND CENTER OF ATTENTION
Lighting is a surefire way to make a space feel new again. Adding an oversized fixture is a great, affordable refresh to a room or entryway that will be noticed by guests right away. Chandeliers are no longer just reserved for dining rooms or for hovering over a foyer, there can be a space for them in a variety of different settings. It's just a matter of picking out a fitting selection.
Photo credit: essentialhome.com | Joanna Nowak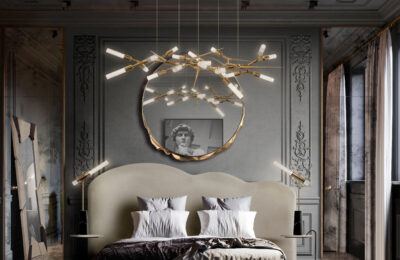 LINEAR LIGHTING
Long lines and simplified silhouettes will be replacing more intricate and complicated designs. Though ornate chandeliers and bolder options still have their place, a simplified look is a refreshing change that many may be searching out. Linear lighting also offers the perfect scale for dining rooms with rectangular tables or kitchen islands with one pendant light. In addition, linear lights provide a more seamless look as they require one lighting fixture to complete a space.
Photo credit: caffeelattehome.com
FUN LITTLE TOUCHES
Unique and fun finishes have become very popular. Metal like bronze, gold or nickel adds an elegant yet industrial component to the room. Also having fun with the light bulbs is a great way to change the look of a fixture. Spiral filament, flame tip, or even colored bulbs are a fun way to spice up lighting fixtures you may not want to replace fully. This is a fantastic solution for adapting the same lamp or chandelier to different rooms' themes.

See the complete article below…